…STOP UNWANTED SOUNDS with the NEW 664 VARIABLE D
EV CARDIOID for P.A.
Now… Broadcast Performance Designed for Public Address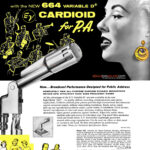 Click on the image above to see the full size version
COMPLETELY NEW ALL-PURPOSE CARDIOID DYNAMIC MICROPHONE
BRINGS NEW EFFICIENCY OVER WIDE FREQUENCY RANGE
All the advantages of the E-V Variable D* are now available in the new high-fidelity "664"…for public address, recording, communications and similar applications. Uniform cardioid polar pattern provides high front-to-back discrimination against unwanted sounds, without close-talking boominess. Easily solves sound pick-up and reproduction problems under a great variety of conditions. Gives distinct, natural reproduction of voice and music. Increases working distance from microphone. Gives greater protection against feedback. Especially useful where
ambient noise and severe reverberation exist. Pop-proof filter minimizes wind and breath blasts. E-V Acoustalloy diaphragm guarantees smooth wide-range reproduction. Can be used on a floor or desk stand or carried in the hand. No finer microphone for performance and value! Write for Technical Specification Sheet.