the finest CARDIOID MICROPHONE available
…THE NEW ALTEC LANSING 670B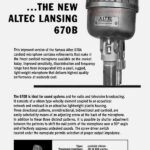 Click on image above to see full size version
The 6708 is ideal for sound systems and for radio and television broadcasting.
It consists of a ribbon type velocity element coupled to an acoustical network and enclosed in an attractive lightweight plastic housing.
Three directional patterns, omnidirectional, bidirectional and cardioid, are easily selected by means of an adjusting screw at the back of the microphone.
In addition to these three distinct patterns, it is possible by shutter adjustment between the patterns to shift the null points of the microphone over a 90° angle and effectively suppress undesired sounds.