Electro-Voice Dynamic Microphones
OUT-PERFORM ALL OTHERS in the RECORDING FIELD!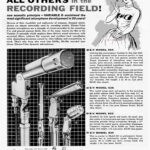 Click on image above to see the full size version
New acoustic principle – VARIABLE D acclaimed the most significant microphone development in 20 years!
Because of their durability and uniformity of response, dynamic microphones are almost universally used by recording studios. Electro-Voice dynamic microphones are a triumph of electro-acoustics in the recording,
P.A. and general purpose fields.