THE DOLBY A301 AUDIO NOISE REDUCTION SYSTEM
Making the Master Recordings of the Future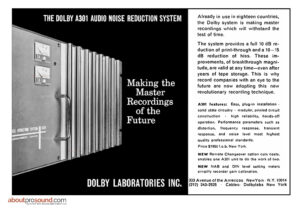 Click on image above to see the full size version
Already in use in eighteen countries, the Dolby system is making master recordings which will withstand the test of time.
The system provides a full 10 dB reduction of print-through and a 10 – 15 dB reduction of hiss. These im-provements, of breakthrough magni-tude, are valid at any time-even after years of tape storage. This is why record companies with an eye to the future are now adopting this new revolutionary recording technique.
A301 features: Easy, plug-in installation • solid state circuitry • modular, printed circuit construction • high reliability, hands-off operation. Performance parameters such as distortion, frequency response, transient response, and noise level meet highest quality professional standards.
Price $1950 1.o.b. New York.
NEW Remote Changeover option cuts costs, enables one A301 unit to do the work of two.
NEW NAB and DIN level setting meters simplify recorder gain calibration.