"I LIKE TO THINK OF THE DOLBY SYSTEM AS ANOTHER DECCA / LONDON FIRST,"
says Arthur Haddy, Technical Director of the Decca Record Company Limited (London Records in USA).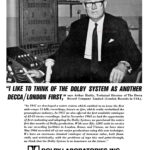 Click on image above to see the full size version
"In 1947 we developed a cutter system which enabled us to issue the first wide-range 15 kHs recordings, known as ffrr, which really revitalized the gramophone industry. In 1957 we also offered the first available catalogue of 45-45 stereo recordings. And in November 1965 we had the opportunity of first evaluating and adopting the Dolby System; we purchased the entire first five months of Dolby production. With over fifty A301 units in service in our recording facilities in London, Rome, and Vienna, we have since May 1966 recorded all of our major productions using this new technique.
We have an enormous classical catalogue of immense value, both financially and artistically: with the problems of tape hiss and print-through, we think that the Dolby System is an insurance on the future."
DOLBY LABORATORIES INC.