AKG C-451E Microphone System
the common-sense approach to phantom powering.
Just one or two resistors!
Simple, isn't it?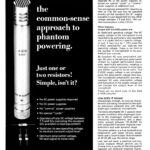 Click on image above to see the full size version
The AKG C-451E may be powered at the cost of one or two precision resistors: No separate AC or DC power supplies required nor special "cards" or "central" power supplies at additional cost.