FASTEST LIMITER 1176″LN"
NOW 6dB LOWER NOISE-AND A NEW LOOK!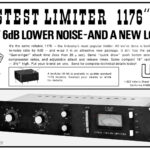 Click on image above to see the full size version
It's the same reliable 1176 – the Industry's most popular limiter. All we've done is better the signal-to-noise ratio by 6dB – and wrap it in an attractive new package. It still has the same ultra-fast "Gun-slinger" attack time (less than 20 m sec). Same "quick draw" push button selection of four compression ratios, and adjustable attack and release times. Same compact 19″ rack mount size — 3½" high. Put your brand on one. Send for complete technical details today!