KEPEX MEETS GAIN-BRAIN
A TRUE LIFE ADVENTURE IN THE AUDIO GAME
By ALLISON RESEARCH. INC.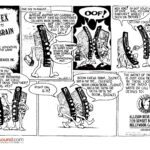 Click on image above to see the full size version
ONE DAY IN AUGUST…
WHEW! ANOTHER DAY CLEANING UP NOISY TAPES! THEIR AIR COIJDITIONER DELIVERS MORE RUMBLE THAN COOL AIR! CANT COMPLAIN THO, ITS MY JOB AND I DO IT WELL!
LET'S SEE, TOMORROW ITS SUPER•SONIX STUDIOS AND SOME STEREO EFFECT SYNTHESIZING AND. . .
OOF!
HEY YOU! YA GOT YOUR HEAD UP YOUR. . .
SAY YOU LOOK FAMILIAR! HAVEN'T I SEEN YOU BEFORE?
SURE, MAN. I'M YOUR NEW SECOND COUSIN! GAIN•BRAIN! I'M A LIMITER LIKE YOU WOULDN'T BELIEVE! PEAK AND RMS THRESHOLDS! I'M GREAT!