How good is the new Electro-Voice RE20 studio dynamic microphone?
Here's proof from the new scoring stage at Glen Glenn.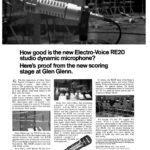 Click on image above to see the full size version
The fine reputation of Glen Glenn Sound Company rests on their knowledge of sound … their ability to turn a full symphony orchestra into a perfect sound track for TV, the movies, or a new album. And their desire to be first with the finest.
So for their new scoring Studio M, Glen Glenn engineers asked to see the latest products in every category … tape, film, electronics, and – of course – mi-crophones. Especially a new E -V dynamic cardioid microphone which they had seen in prototype form earlier.