INTRODUCING:
THE AMAZING EVENTIDE OMNIPRESSOR®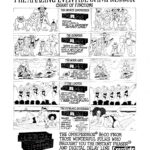 Click on image above to see the full size version
CHART OF FUNCTIONS
THE INFINITE COMPRESSOR
VARYING INPUT LEVELS, RESULT IN UNIFORM OUTPUT LEVEL!
THE EXPANDER
TURNS A LIMITED INPUT-DYNAMIC-RANGE INTO A WIDE OUTPUT-DYNAMIC-RANGE!
THE NOISE GATE
SET A THRESHOLD LEVEL! ANYTIME THE SIGNAL FALLS BELOW THAT THE PESTY BUGS GO IN DA' GARBAGE!
THE LIMITER
UNITY GAIN TO PRESET LEVEL; ABOVE THIS LEVEL, BIG INPUT CHANGE PRODUCES ONLY A WEE-LITTLE OUTPUT CHANGE!
THE DYNAMIC REVERSER
MAKES LITTLE SIGNALS BIG AND BIG ONES LITTLE!
MAKES DRUMS SOUND BACKWARD!
THE OMNIPRESSOR® $600 FROM THOSE WONDERFUL FOLKS WHO BROUGHT YOU THE INSTANT PHASER AND DIGITAL DELAY LINE