midas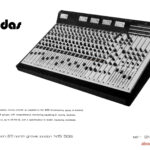 Click on image above to see the full size version
An example of a 16 into 4 modular mixing console as supplied to the OZO broadcasting group of Holland.
Incorporating 2 echo & 2 F/B groups, with comprehensive monitoring, equalising & routing facilities,
Standard chassis from 10 into 2, up to 24 Into 16, with a specification to studio mastering standards.
midas amplification, 87, north grove, london N15 5Qs.