WHEN THE TOUR'S OVER, YOU WON'T HATE IT.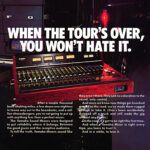 Click on image above to see the full size version
After a couple thousand bone shaking miles, a few dozen one-nighters in towns way out in the boondocks, and a million cheeseburgers, you're not going to put up with anything less than a perfect mixer.
The Yamaha Sound Mixers were designed to put reliability where it belongs. Between the good music and the receptive audience.