LA-4 Son of LA-3A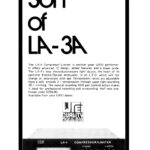 Click on image above to see the full size version
The LA•4 Compressor/Limiter is another great URI performer.
It offers advanced IC design, added features, and a lower price.
The LA-4's new electroluminescent light source, the heart of its patented Electro Optical attenuator, is an L.E.D. which will not change or deteriorate with age. Compression ratios are adiustable from a soft, smooth 2:1 compression through super tight sounding 20:1 limiting. The natural sounding RMS gain control action makes it ideal for professional recording and re-recording. Half rack size
Priced under $350.00.