This singular lower midrange system
improves intelligibility in the voice frequencies to a new order in high power sound reinforcement.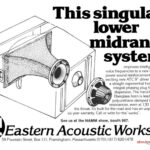 Click on image above to see the full size version
The exciting new ATC 9″ driver connects to a straight exponential horn using an integral phasing plug for enhanced dispersion. The hand-laminated fiberglass horn is lead-sheeted and polyurethane damped to eliminate resonances, even at 130 dB SPLs at the throat. It's built for the road and has an unprecedented six year warranty. Call or write for the"works".