PROGRESS WIH MIDAS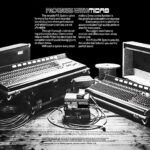 Click on image above to see the full size version
The versatile PR System caters for many live media and recorded sound situations where performance and reliability compromises are not affordable.
Through thorough understand. ing and analysis of our clients varied requirements Midas has developed the complele concert sound mixing system as shown below
With such a system every detail matters. Every control function is designedto provide optimum response.
Every component is selected to assure consistent high quality perform. ance for many years..
The rugged main frame is modular and offers expansion at any future time.
The Midas P.R. System provides the reliable link between you and the perfect sound.