Our microphones are more often heard than seen.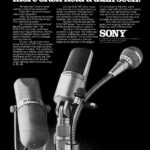 Click on image above to see the full size version
We really don't have to broadcast the virtues of our equipment.
Especially if you've ever broadcast on our equipment.
Intact, go into almost any professional facility, and it'll be easy to spot Sony.