Yet another first for Westmill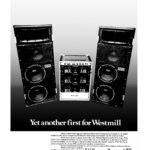 Click on image above to see the full size version
Only a short time ago we told you about the Compression loaded 2 × 9 radial mid-horn, the most compact and efficient mid range transducer on the market today.
Well we've done it again, here's the only Master Rack System of its type. This 1000 watt tri-amped monitor or p/a system, like our 2 x 9 mid-horns is the most compact system available, yet it still gives the powerful sounds that bands require. This has been achieved partly by using ATC and Coral speaker components.
If you want proof of what we say contact us and we'll arrange a demonstration.