IF YOU THINK ALTEC LANSING ONLY MAKES GREAT SPEAKERS…
. . . Meet The Great Power Behind Them.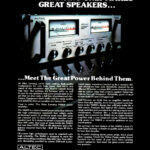 Click on image above to see full size version
At Altec Lansing, we've been making high-qualitu loudspeakers for over forty years. And we're very proud of the reputation that ther've earned during that time. But perhaps it's because were so well krown for our speakers that some people tend to for. get that we also make a full line oi professional elec. tronics. Equipment that's built with the same quality ard reliability that our speakers are famous for Case in point: The Altec Lansing 9440A power amplifier.
The 9440A is a dual-channel power amp that delivers the high performance standards that todav's audio professional needs. It produces more than 200 watts per channel into 8 ohms of highly reactive loud. spaaker load At 4 ohms the power is typically greater than 400 watts. And even at these levels the 9440A has less than 025% THD or IM distortion and a fre. quency response that's flat +0.25 1B from 20 Hz to 20 kHz.
Ol course