About to buy a mixer that's merely stereo?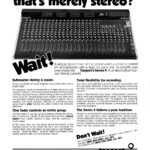 Click on image above to see full size version
A simple stereo mixer isn't so simple when you have to control 24 microphones with a fader for each one. To simplify your over-mixed life… Tangent's Series 4. A Limited Edition four-out mixing console.