UNEQUALED PERFORMANCE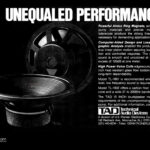 Click on image above to see the full size version
Powerful Alnico Ring Magnets; selest hich purity materials and precise machininc tolerances produce the strong linear files necessary for demanding applications
Computer-Alded Design and Laser Hole-graphic Analysls enabled the production of true linear piston motion assuring low disto"-tion and controlled response. The resulting sound is smooth and uncolored at levels ir excess of 120B at one meter.
High Power Voice Colls edgewound on four inch heat resistant glass fiber bobbins assure long-term dependability.
Model TL-1601 is recommended where hig level, low frequency sound is required.
Model TL-1602 offers a carbon fiber bended cone and a wide 21 to 2000Hz bandwidth.
The TAD 15 INCH loudspeaker meets the requirements of the uncompromising professional.