One of 24 Reasons Why You Should Buy The Dolby SP Series.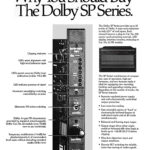 Click on image above to see the full size version
The Dolby SP Series provides up to 24 tracks of Dolby A-type noise reduction in only 12¼" of rack space. Each channel features a plug-in Cat. No. 230 carrier card containing controls, LED display, interface circuitry, and a plug-in Cat. No. 22 NR module.
The SP Series' combination of compact size, ease of operation, high per-formance, and new features make it ideal for equipping new recording facilities and upgrading existing ones.