Experience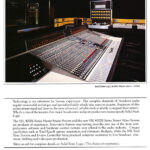 Click on image above to see the full size version
Technology is no substitute for human experience. The complex demands of broadcast audio require resourceful technique and specialised skills which take years to acquire. Engineers of this achievement need and deserve the most advanced, reliable tools available to support their artistry.
Which is one of the reasons that major broadcasters and post-production houses specify Solid State
Logic.
The SSL 4000E Series Master Studio System and the new SSL 6000E Series Stereo Video System are products of experience. Innovative human engineering provides easy use of the most com prehensive software and hardware control systems ever offered to the audio industry. Unique capabilities such as Total Recall capture inspiration and eliminate drudgery, while the SSL Real Time System and Events Controller bring practical computer assistance to live broadcast, electronic dubbing and video post-production.
Write or call for complete details on Solid State Logic- The choice of experience.