The world's least conservative profession has maintained one rigid tradition.
The SM58.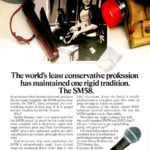 Click on image above to see the full size version
In an industry that discards electronic products like ice cream wrappers, the SM58 and its close cousin, the SM57, have remained the overwhelming choice of rock, pop. R & B, gospel and jazz vocalists for the last 16 years.