IF ANY OTHER "ONE BOX" SYSTEM WAS THIS ADVANCED, AND THIS COST EFFECTIVE, AND THIS WELL BUILT, WE MIGHT HAVE SOME COMPETITION.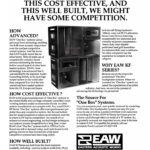 Click on image above to see the full size version
HOW ADVANCED?
EAW "One Box" systems utilize advanced horn technology enabling 3 to 8 dB more acoustic output than even the costliest competitive vented systems. And the horns that EAW builds sound like no other horns: They all make use of exceptionally complex throat sections eliminating the beamy hollow sound typical of other horn loaded systems. EAW's horn technology is so advanced that it was selected by the Japanese Audio Consulting Society as the best high output system in the world after they compared it to 14 of the best vented and horn loaded systems from the US, Europe and Japan.