ONE OF THE TOP PERFORMERS AT THE INDY 500 HAS ONLY 217 HORSEPOWER.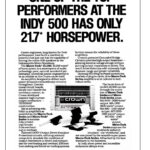 Click on image above to see the full size version
Crown engineers, long known for their performance, have built a machine so powerful that just one has the capability of driving the entire 400 speakers at the Indianapolis Motor Speedway.
The Macro-Tech® 10,000. 16.200 watts* of burst power, is a masterpiece of audio technology: pure, natural, uncolored per-formance: incredible power: engineered to be as reliable as the Crown name itself.
An amplifier designed to deliver such power demands extraordinary circuitry throughout. Conventional circuit boards simply can't handle the necessary current, so Crown developed massive high-current copper conductors – 'BUSSBAR' construction.
Key to achieving reliability in amplifiers as powerful as the Macro-Tech Series and Micro-Tech® Series is successfully protecting circuits from overheating or overload.