The most advanced digital audio production system just got smaller. And bigger.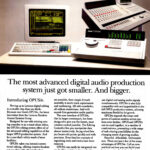 Click on image above to see the full size version
Introducing OPUS/e.
Moving up to Lexicon digital editing is a smaller step than you think.
Because now there's OPUS/e, the latest innovation from the Lexicon Random Access Systems Group.
Designed for use with existing mixing consoles or as a stand-alone editor, the OPUS/e editing system offers all of the advanced editing capabilities of the larger OPUS production system. And for a cost that's within reach of most facilities.