Its most spectacular effect is outperforming its predecessors.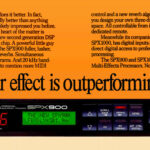 Click on image above to see the full size version
If you thought you'd never hear anything better than the SPX90, it's only because you haven't yet heard the new SPX900 Professional Multi-Effect Processor.
It's got more features, more func tions, and more effects. It's got an awe-inspiring sound, and an amazingly friendly price. Just name it, and the SPX900 Professional Multi-Effect Processor does it better. In fact, exceptionally better than anything that most likely impressed you before.
At the heart of the matter is
Yamaha's new second generation DSP processing chip. A powerful little guy that gives the SPX900 fuller, lusher, smoother reverbs. Simultaneous effect programs. And 20 kHz band-width. Not to mention more MIDI control and a new reverb algorithm that lets you design your own three-dimensional space. All controllable from its own optional dedicated remote.
Meanwhile its companion, the SPX1000, has digital inputs and outputs for direct digital access to professional quality processing.
The SPX900 and SPX1000 Professional Multi-Effects Processors.