MORE THAN THE SUM OF ITS PARTS, SAORI SIMPLY REDEFINES ENGINEERED SOUND.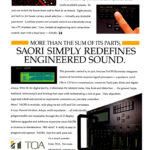 Click on image above to see the full size version
By integrating sound procesing, SAORI has reinvented system design, and in the process, revolutionized the way sound is controlled, shaped, refined and distributed. SAORI makes processing not only easier, more precise and reliable, but repeatable, with one-touch-recallable presets. So you can switch the house from rock to Bach in an instant. Eight presets are built in, for house curves, zonal selection – virtually any desirable parameter. Limitless presets and acoustic control are a keystroke away via a PC interface port. Now, instead of engineering each venue from scratch, start with a head start – SAORI.
This powerful control is, in part, because SAORI flawlessly integrates dozens of heretofore separate signal processors – equalizers, notch filters, CD horn compensators, crossover / band pass filters and digital delays. With 32- bit digital purity, it eliminates the inherent noise, hiss, hum and distortion … the ground loops, feedback, interconnects and leveling that come with orchestrating a rack of gear. Time alignment, high-end rolloff and normal or asymmetric crossovers are precisely controlled.
More? SAORI is modular, with plug-ins for A/D and D/A conversion,
4-way channel dividers, delays, multi-equalizers… all individually programmable and repeatable through the LCD display. Software upgrades and subframe expansion mean SAORI is immune to obsolescence. Still more? It really is easy to program and operate. SAORI. Just five rack units tall, it's a small wonder.