"I've waited 14 years for a monitor this accurate.
The HD-1 is worth the wait."
Roger Nichols – Engineer/Producer – Grammy Winner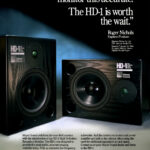 Click on image above to see the full size version
Meyer Sound redefines the near-field monitor with the introduction of our HD-1 High Definition Recording Monitor. The HD-1 was designed to provide the most stable, accurate imaging available today. With an extended low frequency response to 32Hz, the HD-1 needs no external subwoofer. And the control electronics and power amplifier are built in the cabinet, eliminating the need for additional equipment or rack space.
Contact us or your Meyer Sound dealer and listen to the HD-1.
There's no need to wait any longer.