"We didn't need magic to shatter these myths of speaker design-just the laws of physics, artfully applied."
Kenton G. Forsythe — Co-Founder, Vice President of Engineering, EAW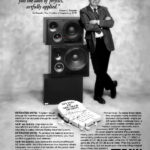 Click on image above to see the full size version
OUTDATED MYTH: "A system tough enough for nearfield sound reinforcement can't be accurate enough for studio monitoring.
NEW MS SERIES: One listen to the new MS103 and M$63, and you'll know why they're called Ultimate Fidelity Nearfeld Systems.
OUTDATED MYTH: "To achieve the balance and transparency of esoteric European studio monitors, you must sacrifice ruggedness and reliability."
NEW MS SERIES: Look behind the minimum-diffraction
MS Series baffle: You'll find advanced low distortion drivers integrated into a system that handles all the power modern amplifiers can deliver.