DIGITAL PROCESSING TECHNOLOGY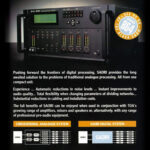 Click on image above to see the full size version
Pushing forward the frontiers of digital processing, SAORI provides the long awaited solution to the problems of traditional analogue processing. All from one compact unit.
Experience … Automatic reductions in noise levels … Instant improvements to audio quality… Total flexibility when changing parameters of dividing networks… Substantial reductions in cabling and installation costs.
The full benefits of SAORI can be enjoyed when used in conjunction with TOA's growing range of amplifiers, mixers and speakers or, alternatively, with any range of professional pro-audio equipment.