THE PM4000 WILL PLEASE TWO OF YOUR BIGGEST CRITICS.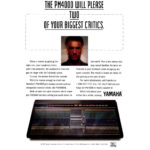 Click on image above to see the full size version
When it comes to getting the right mix, your toughest critics aren't the promoter, the audience or even the guy on stage with the full-body tattoo.
It's you, the person behind the console.
Which is reason enough to check out Yamaha's PM4000 pro mixing console and our companion monitor mixer, the PM4000M.
Both include the same features which made the PM3000 the best-selling pro audio mixer in the world. Plus a few extras that may sound familiar, because we
listened to your feedback while designing our latest console. The result is sound so clean it's like getting a new pair of ears.
For more information, call Yamaha at 1-800-937-7171. Ext. 110. You'll find out iust what the PM4000 is really capable of.
Which will plase your critics for a while, anyway.