We've analyzed your requirements…
…to bring you the RT1.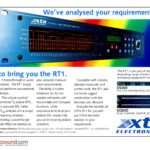 Click on image above to see the full size version
A breakthrough in audio analysis – the RT1 simply outperforms conventional devices.
This unique product combines ½ octave RTA, an accurate SPL meter, RT6o analysis and a swept frequency analyzer • creating a powerful yet cost effective solution to your acoustic measurement requirements.
Flexibility is further enhanced by 32 non volatile memories with Accumulate and Compare functions, while innovative time/level and relative SPL modes help you avoid noise legislation problems.
Complete with industry standard computer and printer ports, the RT1 also combines rugged construction with the accuracy you demand.
Evaluate the benefits of XTA's RT1 for yourself, you'll find the total solution to your requirements.