JBL Studio Monitors
The Sound of Yesteryear, Next Year and Every Year in Between.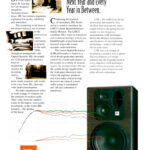 Click on image above to see the full size version
Starting back in 1936, when James B. Lansing won an Academy Award for Technical Excellence. JBL has earned a legendary reputation for quality. reliability and innovation.
The pioneering work done in the theater industry was extended
to the professional sound community in general.
In the early 1960s, through an arrangement with Capitol Records. JBL developed the 4320 and quickly became a force in monitoring svstems for recording studios.
Today, more studio monitors sold worldwide come from JBL. than any other audio manufacturer.
No other manufacturer offers as wide a range of solutions for the demands of modern audio.
That's why. from the smallest rooms to the largest, most exotic installations in the world, JBL remains… the speaker of the house.