VA4 technology
KF700 SERIES Total Acceptance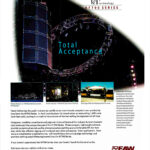 Click on image above to see the full size version
Never before has the audio industry so rapidly or so unanimously accepted a new product as they have the KF700 Series. In the 6 months since it's introduction an astounding 1,600 units have been sold, putting it on track to become one of the best-selling loudspeakers of all time.
Designers, installers, consultants and engineers from all facets of the industry have enthusiastically embraced the unique features of the Kl700 Series. These compact, lightweight cabinets provide exceptional sound quality, phenomenal arrayability and unbelievable SPI. for their size, while fast, efficient rigging and truckpack save time and money. Every application, from tours to installations to special events, will benefit from the cutting-edge technology and problem-solving capabilities engineered into the KF700 Series.
If you haven't experienced the KF700 Series, then you haven't heard the future of audio.