WHAT ARE THE TWO BIGGEST HEADACHES IN PROVIDING AUDIO
FOR CORPORATE-INDUSTRIAL EVENTS? SPACE & TIME!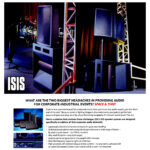 Click on image above to see the full size version
Note: Designed by Mike Adams
If you've ever provided sound for a corporate event, then you know that audio usually gets the "short end of the stick" Because scenic or lighting designers drive most events, you typically get the least amount of space ano setup time. Yet, who is first to hear complaints if it doesn't sound great? You are.
Here's a solution that combats these challenges. QC's ISIS speaker systems are designed specifically to address all that corporate audio demands:
• Lightweight, attractive composite enclosures for quick, easy handling
• Multifunctional cabinet and waveguide designs that cover a wide range of duties-fly, stack or pole mount–for FOH or monitors
• Very small footprint–very high output
• Systems can be set up by one or two people within minutes
• Ruler flat frequency response right out of the box.
• High -powered, self-contained plug and play systems–no amp racks, outboard DSP, or system EQ needed. Connect your source and AC power–it's showtime
You owe it to yourself and your company to audition these systems today. You'll agree they are indeed, "The Ideal Industrial Audio Solution", For more information, visit our website (www.gscaudio.com), call toll-free 800-854-4079, or visit your authorized dealer.