Making the right choice:
DiGiCo SD9 and SD10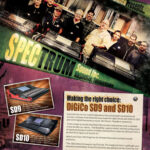 Click on image above to see the full size version
Spectrum Sound, Inc. a well respected professional audio equipment and services company from Nashville have made the right choice with DiGiCo's SD9 and SD10 digital livesound consoles. Ken Porter, President comments…
"From rentals to installs the DiGiCo SD consoles have proven to be a valuable choice to offer our clients. The flexibility, superior detail, and the configuration of inputs and outputs within a smaller work platform make the SD9 and SD10 a perfect fit for Spectrum Sound, Inc."
Wile Curtis Flatt, FOH Enginner for Michael McDonald and Wonna ludd enthuses.
"The SD10 blew me away on my first use. The image and sonic quality get your attention immediately. I knew the SD series was going to be the choice for me." Great company. Great consoles. The perfect match.