INTRODUCING CS-SERIES
THE REBIRTH OF POWER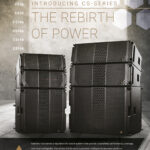 Click on image above to see the full size version
Adamson has earned a reputation for sound systems that provide unparalleled performance, coverage, and vocal intelligibility. The all new CS-Series is a powered, intelligent loudspeaker platform
with on-board Class D amplification and DSP, plus Milan-ready AB connectivity.
This is Adamson's legendary sound, evolved for the networked future of professional audio.