Altec introduces a 4-foot control console with up to 28 inputs and 16 outputs.
It's built to your specs…delivered ready to use.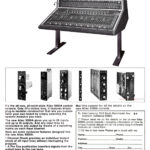 Click on image above to see full size version
It's the all-new, all-solid-state Altec 9300A control console. Only 51½ inches long, it features direct- new Altec 9300A console. plug-in modular construction that lets you custom tailor your own board by simply selecting the specific modules you need.