THIS IS THE FAIRCHILD PORTABLE MIXING CONSOLE! MODEL FPC-50
TAKE IT TO YOUR NEXT RECORDING SESSION!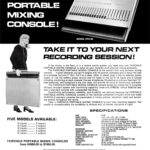 Click on the image above to see the full size version

In the studio, in the field, or in a mobile sound system you need only one FAIRCHILD PORTABLE MIXING CONSOLE to solve all your complex multi-channel mixing problems.
The FAIRCHILD PORTABLE MIXING CONSOLE is the world's first truly portable mixing console … it goes wherever you go! It weighs only 45 pounds complete and is about the size of a suitcase, but only 2″ thin. Put it on a desk, table, or stand, plug it into an external power supply or use the battery power source and it's ready to mix up to 16 inputs and 8 outputs including monitoring on each channel. One set of batteries (16 alkaline or ordinary flashlight "C" type batteries), self-contained in the arm rests, will provide 25 hours of continuous operation.
The FAIRCHILD PORTABLE MIXING CONSOLE actually saves you money too! A complete
16-input, 8-output system with monitoring capability costs only $7990.00. (About $6000.00 less than a standard console with comparable facilities.)
Outstanding performance, reliability, and durability are assured because the FAIRCHILD PORTABLE MIXING CONSOLE consists of the identical component circuitry which has made FAIRCHILD standard consoles the pacemaker in motion picture. television, radio and recording studios throughout the world.
Take a FAIRCHILD PORTABLE MIXING CONSOLE to your next recording session.