THE YAMAHA PA 800 The Professional Choice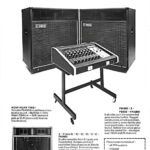 Click on image above to see the full size version
NOW HEAR THIS! Yamaha PS400 Bins achieve a new level in sound – 96dB for 1/10th Watt! 20kHz at -3dBI standard jack or XLR (balanced) feeds to inbuilt slaves.
8 +2into 2( ×2) +2( ×2) +2 +2 = PM400 Studio versatility from 8 Inputs and 2 paralleled Subgroups feed 2 paralleled Output groups at 3 levels with 2 paralleled Echo send groups at 2 levels and 2 Line groups at 2 levels. Stereo output to cans.
PM400 + 2 x PS400 – YPA800 It all adds up in the system that goes one step further. Rugged construction, simple operation, perfect clarity. every facility plus sleek good looks – but don't be fooled. Behind that velvet glove lurks the mailed fist – slaving to over 10kW and 24 channels.