THE PROFESSIONALS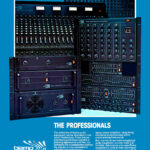 Click on image above to see the full size version
The entire line of Biamp audio equipment can be described in one word; Professional. From precise engineering and clean sound to a pleasing appearance and feel, our complete line is establishing itself as the industry's most consistent in reliability and performance.
We manufacture professional mixing consoles, graphic equalizers, a parametric equalizer, a stereo reverberation system, a 4-channel limiter, electronic crossovers and stereo power amplifiers all perfectly interfaced and performing within unprecedented tolerances,
But, not only do we make exceptional audio equipment, we also make it affordable. Ask anyone who uses Biamp equipment or write for free information and a list of dealers in vour area. You'll discover why Biamp is tne fastest growing company in our field.