WHEN YOU KNOW HOW THEY'RE BUILT, YOU'LL KNOW WHY THEY'RE DETTER.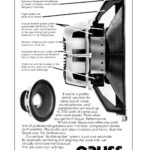 Click on image above to see the full size version
If you're a profes-sional, you look for clean sound, more sound pressure, and speakers that will stand up to 200 watts of continuous sine wave power. That's what you get from Gauss. Performance What's more, Gauss now offers you a full line of professional speakers and monitors, compression drivers and tweeters. Plus studio and disco monitors and horns. Built the Gauss way. For professionals.