This new Lexicon reverb brings great sound down to size.
Model 224 reverberation system has the sound, the controls, the compactness you've always wanted.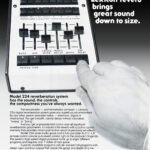 Click on image above to see the full size version
The remarkable – and remarkably compact – Lexicon 224 digital reverberation system gives you superb sound unmatched by any other system available today – electronic, digital or mechanical. You get smooth, natural decay without coloration.
"wang" or "boing
And you get unprecedented control over all significant reverberation parameters. It's industry's first reverb with a built-in control memory thar provides instant push-button recall of previously set effects.
Model 224 saves studio space and is fully portable. Its 5½" × 8″ remote control console puts reverb control righr at the producer's fingertips.
The system's high speed digiral processor holds up to eight different programs and requires only 7 inches of rock spoce.
Currently available programs include: concert hall programs with stereo input and four outputs that create the space and depth of a live performance with decoy times of 0.6 seconds to 70 seconds; acoustic chamber programs that provide sound equal to the best reverberation chambers; plate programs that outperform the highest qualiry reverberation plates or other mechanical devices with full control of all parameters including pre delay of up to 256 milliseconds.
Model 224. A major advance from Lexicon. Once you've heard it, you'll never war to do another session without it.