LESS THAN ONE PERCENT FAILURE!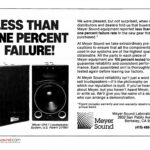 Click on image above to see the full size version
We were pleased, but not surprised, when our distributors and dealers told us that buyers of Meyer Sound equipment reported less than a one percent failure rate in the new gear they purchased.*
At Meyer Sound we take extraordinary precautions to ensure that all the components used in our systems are of the highest quality obtainable. All the parts in each piece of Meyer equipment are 100 percent tested to guarantee reliability and consistent perfor-mance. Each assembled unit is thoroughly tested again before leaving our factory.
At Meyer Sound reliability isn't just a word to sell loudspeakers-it's the philosophy on which our reputation is built. If you've heard about Meyer, but you haven't heard Meyer, call or write us. We'll give you the name of a dealer who can arrange a demonstration.
•Figure includes warranty and non-warranty repairs on an annual basis.