IF IT DOESN'T HAVE AN ANVIL®. . .  you don't have a case.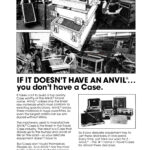 Click on image above to see the full size version
It takes a lot to build a top quality Case worthy of the ANVIL® brand name. ANVIL® utilizes only the finest raw materials which must conform to exacting specifications. ANVIL* stocks these materials in huge quantities, so even the largest orders can be produced without delay.
The machinery used to manufacture ANVIL® Cases is the finest in the Travel Case industry. The result is a Case that stands up to the bumps and grinds of life on the road – so your delicate equipment doesn't have to.