UNEQUALIZED RESPONSE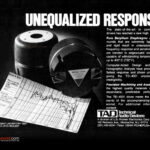 Click on image above to see the full size version
The state-of-the-art in compression drivers has reached a new high.
Pure Berylllum Dlaphragms and sur-rounds that are extremely lightweight and rigid result in unsurpassed high frequency response and sensitivity. They are bonded to edgewound voice coils capable of withstanding temperatures of up to 400° C (752º F).
Computer-Aided Design and Laser Holographic Analysis have provided the flattest response and phase uniformity, giving the TD-4001 unprecedented intelligibility.
Precision Machining and Assembly of the highest quality materials result in dependable, predictable performance.
The TD-4001 driver meets the require-ments of the uncompromising profes-sional.