MORE RECORDING STUDIOS USE CROWN MONITOR AMPS THAN ANY OTHER BRAND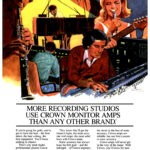 Click on image above to see the full size version
If you're going for gold, you've got to have the best – the best talent, the best wnting, the best equipment. You'll leave nothing to chance.
That's why most studio professionals choose Crown monitor amplifiers.
They know they'll get the clearest highs, the most accurate mid-range, the most solid lows with Crown amps.
Sonic accuracy has always been the first goal – and the hallmark – of Crown engineer-ing. Crown amps are powerful, but never at the loss of sonic accuracy. Crown amps are reliable, but our first concern is sonic accuracy.
Crown amps will never get in the way of the music. With Crown, you'll know for sure when you've got a gold.