Ramsa just pulled the plug on your patchwork.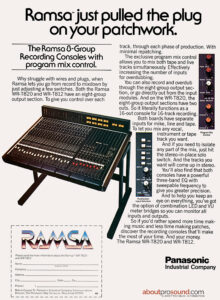 Click on image above to see the full size version
The Ramsa 8-Group Recording Consoles with program mix control.   
Why struggle with wires and plugs, when Ramsa lets you go from record to mixdown by just adjusting a few switches. Both the Ramsa WR-T820 and WR-T812 have an eight-group output section. To give you control over each track, through each phase of production. With minimal repatching.