WOULDN'T YOU LIKE TO WORK WITH A LEGEND?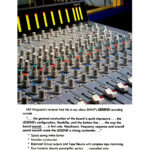 Click on image above to see the full size version
MIX Magazine's reviewer had this to say about BlAMP's LEGEND recording console . . .
". . . the general construction of the board is quite impressive . . . the LEGEND's configuration, flexibility, and the bottom line . . . the way the
board sounds. . . . is first rate. Headroom, frequency response and overall sound warmth make the LEGEND a strong contender.